Primary Care
Below is a primary care 'Green Script' example:
Barrie is in the Clinic for his 75+ health assessment. He has mild dementia with an MMSE score of 23/30. Barrie's wife, Dianne, has noticed Barrie's mood is getting low and he is anxious especially in the afternoons. Barrie usually enjoys walking, his garden and the birds visiting his bird bath, but is spending more time sitting indoors. This has worsened with Covid restrictions.
You understand the frustration Barrie is feeling and encourage him to engage in the activities he enjoys. You explain that physical activity and being outdoors could help his mood and be good for his brain health. You decide a 'Green Script' could be beneficial and provide information on the local Woowookarung Dementia Friendly and Sensory Trail. You recommend that he walk for 30 minutes along the Trail three times a week and suggest the challenge of locating the indigenous animal sculptures and identifying the local birds.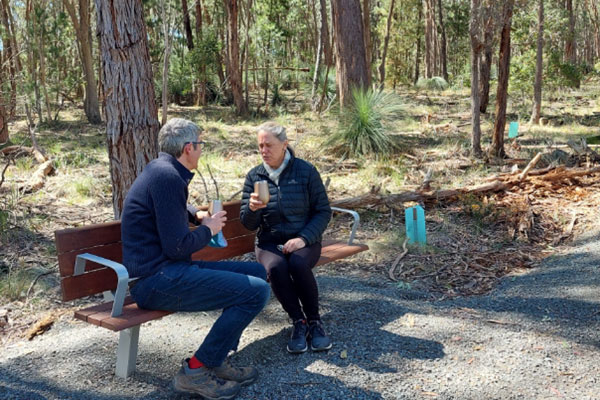 References
Listed below are references to information on 'dementia and being in nature':
Bossen A. 2010. The importance of getting back to nature for people with dementia. Journal of Gerontological Nursing. 36(2). doi:10.3928/00989134-20100111-01
Clarke P, Mapes N, Burt J. & Preston S. 2013. Greening Dementia - a literature review of the benefits and barriers facing individuals living with dementia in accessing the natural environment and local greenspace. Natural England Commissioned Reports, No. 137.
D'Cuna NM, Isbel S, McKune AJ, et al. 2020. Activities outside of the care setting for people with dementia: a systematic review. BMJ Open. 10:e040753. doi:10.1136/bmjopen-2020-040753
Mapes N. 2011. Research Project: Living with Dementia and Connecting with Nature - Looking back, Stepping forward. Dementia Adventure Community Interest Company. Essex. UK.
Mmako NJ, Courtney-Pratt H, Marsh P. 2020. Green Spaces, dementia & a meaningful life in the community: A mixed methods review. Health and Place. 63. doi:10.1016/j.healthspace.2020.102344
The Royal College of General Practitioners and Consumers Health Forum of Australia. 2020. Social Prescribing Roundtable, Nov 2019: Report. Canberra. Australia.